Never stop looking for that great insight. Never stop when it looks impossible. Never stop at just talking.
We believe in a rock solid strategy, because good insight is the most efficient way to great communication. We believe in hard work and no shortcuts, from planning to the tiniest detail in execution.
We believe in long term partnerships, because the best stories are always those which lie ahead of us. We believe in taking nothing seriously, but work.
When unforeseen circumstances are the name of the game
Making an Impact with OTP Bank
In the Era of Transformation with Deutsche Telekom
Expect the unexpected from Telekom
How we created half a campaign for Brain Bar
Imagine Traveling to Greece With Your Relatives. All 170 of Them.
The story of an international toolkit for Molson Coors
Outside the comfort zone. Even at a festival.
How can OTP Bank motivate teens to open a bank account?
How did we make a Mark Ronson gig even more exceptional?
Opening the gates of a closed museum with VR
Family matters. And not just at Christmas.
Being the partner of one of Hungary's biggest and most prestigious advertisers is an honor. Together, we've been creating solutions on an enormous scale: from one-off digital experimentation with chatbots and smart TVs all the way to delivering the most visible and ambitious ATL campaigns in the country.
We have been working together with the region's largest bank for more than 7 years. We're matching OTP's constant need for innovation with novel and award-winning campaigns and solutions, from making people understand what a flexible banking tariff can do for them, all the way to data-driven digital campaigns, and even bringing the OTP-sponsored Hungarian Olympic Team and their fans closer together than ever.
Being trusted with more than a dozen valuable brands is rare and demanding. Our dedicated crew of Account Managers is orchestrating work as tight as it gets with TCCC's local team to help them with everything from research and planning all the way to digital execution.
Our cooperation debuted with a new creative platform for Molson Coors Hungary's flagship brand, Borsodi, but that was only the start. Close to ten international brands also challenge us to deliver the best insights and ideas, so that's what we call the beginning of a beautiful friendship.
No good idea without a good insight
Finding the time to research a target audience makes creative development so much easier. So we rather iterate a few extra rounds on the brief - because you need just a little effort to deliver a great campaign based on a solid insight, but a lot of luck to create a great campaign without the proper brief.
It is hard to separate a great idea from the place where it can truly work. We are more than happy if we can work hand in hand with media, research and any partner agency do deliver outstanding things.
To really walk the talk and have the product deliver what the brand promises, we help our clients with developing products and related digital channels end-to-end.
A memorable, amazing campaign that creates value for customers, always takes extra efforts on both sides. But it's worthwhile.
One size does not fit all, certainly not when it comes to communications. We tailor our processes and teams according to the needs of the client and its portfolio.
Change what's not changed easily
Exploring untouched territories can take more risk, effort, time or costs, but it is a sure fire way to catch our audience's attention.
From alarm clock apps for Olympic athletes to experimental AR campaigns, we got it all covered. Everything handled in-house, from the first wireframe to coding the apps and websites.
We take care of everything, from brand strategy workshops to the very last pixel or print. Our team of 200+ make sure there's enough time and brainpower dedicated to all tasks.
For some brands, it's crucial to have a great influencer pool – and an even better MO to keep everything in-line and working in an agile yet predictable way.
Although we believe in a solid strategy and fine-tuned processes, we love to create stuff that requires out of the box thinking and maybe even a leap of faith from all parties involved. It's worth it – almost all the time.
We take care of figuring out which channels and approaches fit your brand, your industry and your organization.
We meticulously balance the project's requirements to find the right approach and partners to deliver cutting edge photography and motion pictures, from 6-sec bumpers to memorable TVCs.
2020 – digital agency of the year

2019 – digital agency of the year

2018 – digital agency of the year
2016 – digital agency of the year
2015 – digital agency of the year
2014 – digital agency of the year
2021 – agency of the year
2018 – 2nd best agency of the year
2017 – agency of the year
2014 – creative product of the year
2021 – agency of the year
2018 – 2nd best agency of the year
2017 – 2nd best agency of the year
2019 – 3rd best agency of the year
2018 – 2nd best agency of the year
We want to hear from you.
Get in touch with us!
CEO of Mito Creative
d.koveshazi@mito.hu
+36 70 398 2736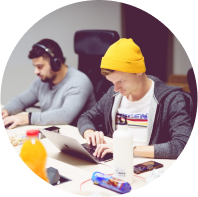 To create more clever things we need more silly people.
Are you intrested in it? Let's talk!