There is only one thing we take seriously. Our work.
We've been doing many things from mobile apps through product development to integrated campaigns.
A lot. And a little bit more. We sought after and found plenty of challenges, through which we grew from a bunch of buddies into a full-fledged agency.
However, the reason behind each and every new project we take on is still the same: an insatiable desire to create clever things, which make our clients, their clients and us happy.
We work in business units
Many of our clients work with 2 or 3 business units at the same time. It all depends on the client's needs and processes.
We take care of everything, from brand strategy workshops to the very last pixel or print.
For some brands, it's crucial to have a great influencer pool - and an even better MO to keep everything in-line and working in an agile yet predictable way.
We take care of figuring out which channels and approaches fit best - not just to your brand, but also to your industry and organization.
User interface design & development
Transforming user needs and business requirements into intuitive and gorgeous interfaces.
Industry specific solutions
Niche products focused on solving specific challenges in Aviation, Lottery, Loyalty and many more industries.
Dedicated and augmented teams
Scaling delivery teams quickly and cost efficiently from the regional market, meeting the highest standards.
Data-driven media solutions starting with media strategy, planning and buying, PPC and programmatic campaign optimization to analysis.
Increase the quality and quantity of traffic to your website through better organic visibility in search engines.
End-to-end multi-channel measurement combined with deep analytic tools reveal the meaning behind your business' numbers.
We foster communication-related services with conversational tech. We are proficient in messaging-based service design, marketing solutions, lead generation and qualification, segmentation. As an added value, we developed our own enterprise-grade Chatbot platform.
We cover the whole journey: optimisation across channels from user journey mapping to deployment, resourcing tailored technologies and managing integrations.
We work within a broad scope including consultancy, coaching, designing and implementing sustainable solutions and optimal experiences for both customers and service providers.
Albert Farkas, Balázs Pőcze and Balázs Kovács had a daring idea at the tender age of 27 (mean average). They envisioned a company developing its own products, taking care of its own advertising and becoming an agency in its own right by making the most of the available top quality grey matter. Around that time, in 2007, the advertising scene started shifting from being dictated by communication channels towards integrated, idea-centered campaigns. That pretty much shaped Mito's path.
By 2012, the company became a full-fledged communications agency with above the line capabilities complementing the digital roots, as well as a development powerhouse with 50+ frontend and backend developers creating memorable digital campaigns as well as state-of-the art websites. Gaining an edge in development has been made possible by the flocking in of great talent on the user experience, consultancy and data teams simultaneously - and the chemistry holding the different divisions together as one.
Nowadays, while being a top agency in Hungary, Mito also turns abroad for challenges. Heavy research and user experience capabilities provide a solid background for delivering cutting edge stuff (or "clever things") all over the world, from Reykjavík to Dubai.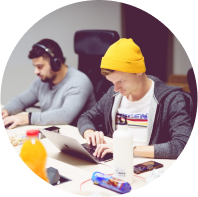 To create more clever things we need more silly people.