We can all agree that the ultimate goal of a business is to maximize profit. Plain and simple. 
When you are an eRetailer and most of your income comes from your webshop, you can easily import your transaction revenue data into Google Ads to better understand your campaign performance in real-time and optimize your campaigns, thus maximizing your profits. 
Value-based bidding has been in our lives for quite a while now, but after the ecommerce revolutions that 2020 brought, collecting and leveraging your data is more important than ever. 
Most ecommerce brands already focus on ROAS, but in order to get the most out of your campaigns, take them to the next level and optimize for ROI. 
Before we dive into the good stuff, let's take a step back and understand what value-based bidding is. 
Simply put, it is what it says it is: value-based bidding drives the most revenue from your campaigns. 
When you optimize for conversion, you might get loads of transactions coming from products that sell easily – in most cases, the cheaper ones. Optimizing for value, you get the most revenue from the given daily budget.
ROAS & ROI, know the difference
ROAS = Return on Ad Spend. The quick formula would be: conversion value divided by cost. If you have ecommerce tracking implemented, you are ready to go. 
Is it the best option, though? 
ROI = Return on Investment. It's more complicated to implement but worth the effort. ROI takes into consideration not only your revenue but also your profit margin. 

Having a high ROAS on a campaign might sound great, but if you want to maximize profit in your business, your main focus should be ROI in performance campaigns.
Let's see an example! 
Let's say you have two campaigns (one for vacuum cleaners and one for washing machines, both have a conversion value of €50,000. vacuum cleaners spent €6,000, washing machines spent €10,000. Based on this information, you could say that the vacuum cleaner campaign performs better. However, it would be too soon to pause the washing machine campaign just yet.
You learn that the profit margin for vacuum cleaners is 25% (net profit: €12,500), while for washing machines is 50% (net profit: €25,000). This means that the campaign for vacuum cleaners had an ROI of 2.1 and washing machines an ROI of 2.5. 
This means that the washing machine campaign performs better. That is where you should maximize spending first.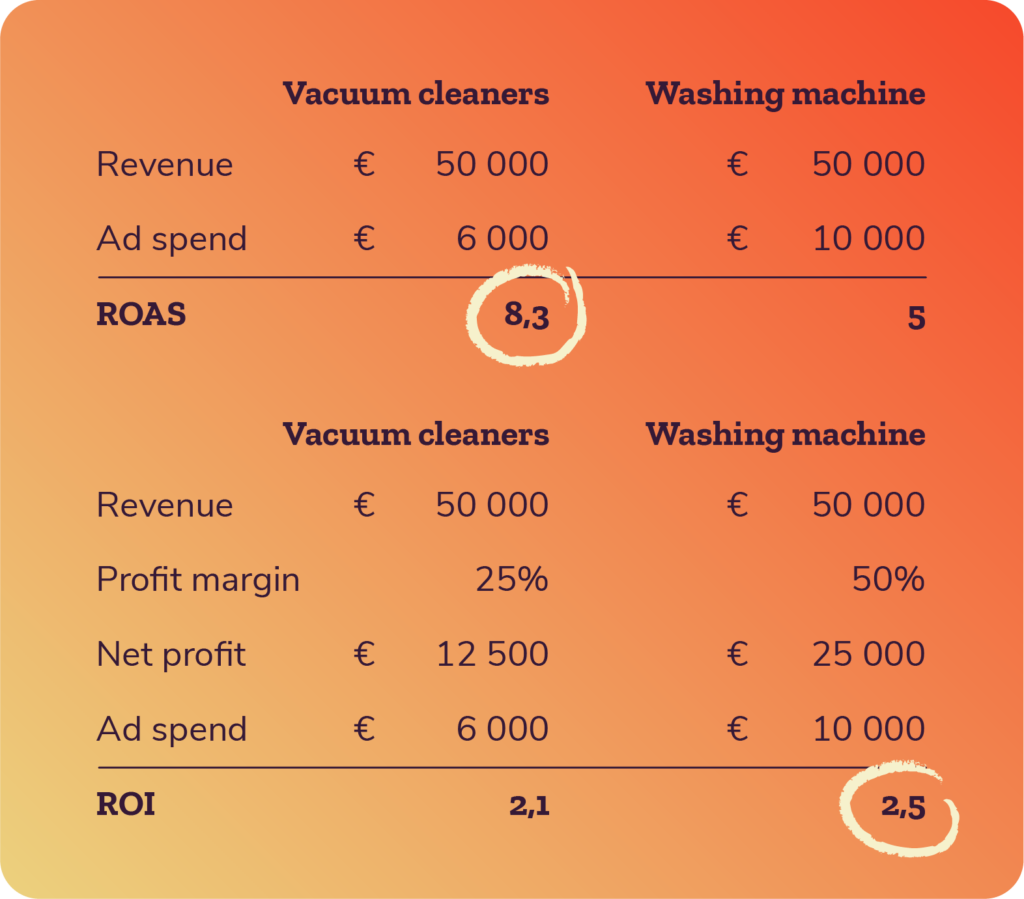 Be more specific
The journey to digital maturity can be challenging, but understanding your margin on a product level and being able to sync it to Google Ads will blow up your campaigns. 
I have seen many cases where a business knew the overall margin of their online store, and even recognized their margin on a product category level, but being aware of this is not enough: you have to start using profit data on a granular level. Once you are able to feed your data into Google Ads on a product level, you will better understand where to allocate the big bucks, and which campaign is a money pit.
Let's get technical
It all sounds great on paper, but how to put it into practice?  Currently, there are two ways to import profit data into Google Ads: 
A: Conversion tag with profit as conversion value
Synchronize profit data in real-time. Implement profit data (product value x product margin) the same way as you do with transaction data in Google Ads with the conversion tag. 
B: Offline conversion tracking
Import the profit data into Google Ads through offline conversion tracking post-purchase.
Offline conversion tracking is a great tool for service-based businesses to ensure lead quality. For example, a car dealership tracks test drive bookings online as their main conversions, but they can simply tie back further conversions, from actual test drives to purchases, from their CRM into Google Ads. 
When it comes to online stores, you can capitalize on offline conversion tracking to sync back product profit data to Google Ads. 
Retrieve the GCLID from the converted click and send it back to Google Ads with the profit value. Use an automated feed or a supported integration to synchronize the data, and do it preferably at least once a day.
Now that you track purchases with profit data as conversions, you can optimize your campaigns towards them. 
Once you understand and use your data correctly, you can maximize the profit that you can gain through the paid channels.