Do you monitor your website's organic traffic? Are you aware if your traffic is stable, or shows a decreasing or increasing trajectory? If not, let's have a quick look at it now! What do you see?
How to discover the cause of an organic traffic loss?
When checking your website's performance in Google Search Console (GSC), you can easily pinpoint if something is not right with organic traffic. Organic clicks are usually one of the main metrics to monitor and they are easy to visualize.
There are several reasons for website traffic drops, so you need to do some research in order to find the root of the problem. You'll either find one problem or several issues. There are 2 visual projections: a sudden drop or a slow decrease over months. Taking a look at the graph will help you on how to start the audit – even if you would check everything anyways.
A sudden drop could be the result of a site-wide technical issue or an algorithm update. If the traffic comes back, it might even have been a reporting glitch. On the other hand, a slow decrease usually stems from a change in demand or weak website content that loses visitors. If the traffic changes periodically, it means the brand has a solution/product/service for which demand is seasonal.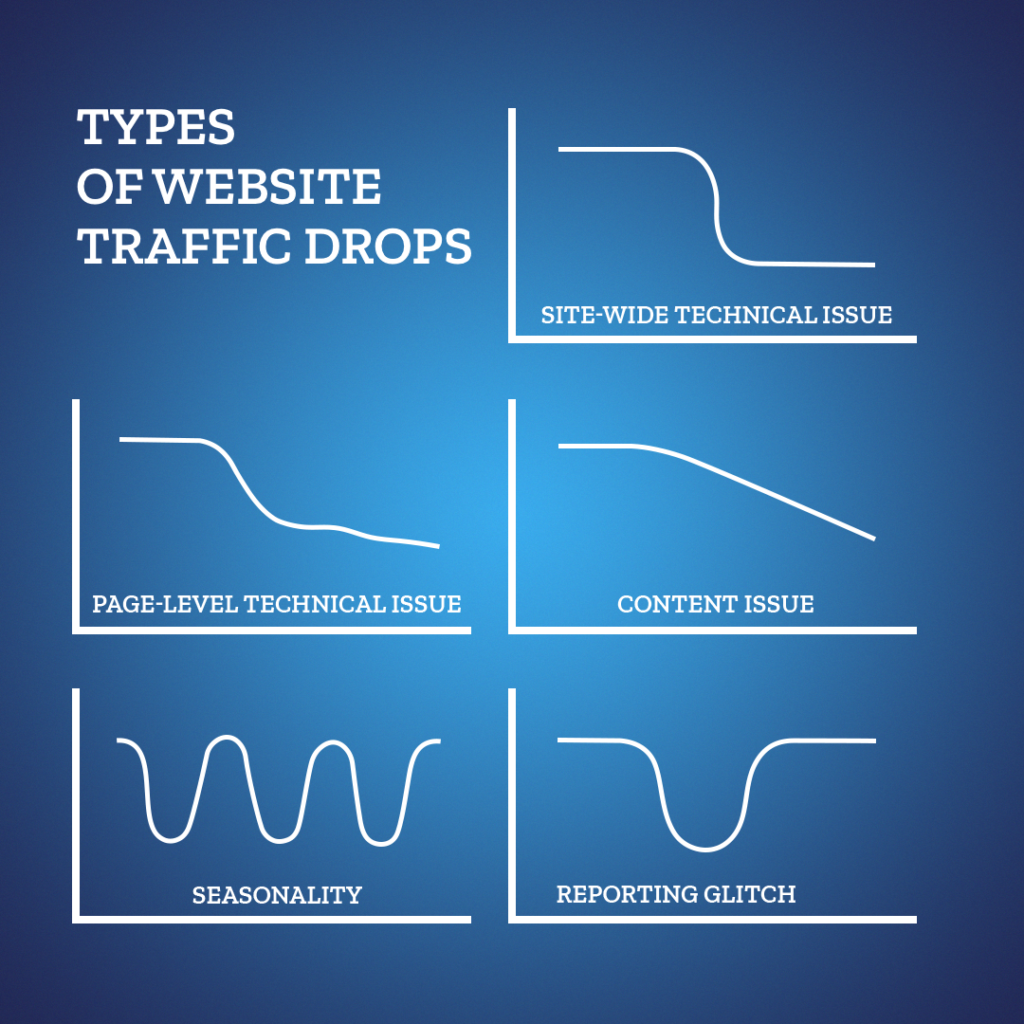 SEO checklist for traffic loss
We have collected some elements you should check when facing an organic traffic drop. Going through this list will help you identify the root of the problem and set next steps accordingly. Read the details below to understand the logic and the process, then download the SEO checklist in PDF for a short output.
Why did organic traffic drop?
Technical issues
First and foremost, Google has to be able to discover, crawl, index and serve the pages. These issues can easily affect the whole site, and thus result in significant change in website traffic.
Next steps: Perform a technical audit and make sure to check:
Coverage: are there any 404, 5xx pages?

Go to the 'Coverage' report in GSC and check if there are any errors.

Redirects:

Are they implemented properly? Are there any loops or redirect chains?
Use a web crawler (e.g. Screaming Frog) and drop the redirected URLs in List mode, then export the results and check the final URL's response code.

Indexing errors:

A quick indexing check in Google is to just drop "site:https://domain.com/" in Google Search to see the pages on index, but this doesn't replace a thorough audit (e.g. using Screaming Frog).
Manually check those pages that had the most significant drop:

Are they on index?
What is the status code of those pages?

Sitemap:

Is it submitted in the correct format in GSC?
Does it contain pages that return a 200 response code?
Are there any (new) pages missing from the sitemap? Do you need to generate a new one?

Manual Actions in GSC,
Blocked URLs in robots.txt: make sure your site isn't blocking search engines from crawling.
Core Web Vitals report in GSC: are there any issues with page load time?
Tracking issue
Tracking should be reviewed when using Google Analytics, especially when the results don't match with Search Console or suddenly no sessions are being recorded.
Next step: Audit tracking codes. Start with:
Checking properties and views in Google Analytics:

Are you looking at the correct property and view? Check if the views are OK and if the code matches the one that is implemented on the site. Chrome's Tag Assistant extension might be a helpful tool.

Implementation of tracking codes:

To find out how tracking codes are implemented, you can use builtwith.com. 
Scrape the site with Screaming Frog and use "custom extract" to check the implementation of tracking codes: include gtag.js or gtm.js. You can use online tools like gachecker.com if you prefer them, or just want to cross-check the results.
It is also a good move to check real-time website traffic: see whether the site can detect a visitor when you are on the site.
If you need to deep dive more, ask your analytics expert to perform a thorough audit.
Top level performance check
When moving on to the content audit, first check some top-level metrics to have an overview of what has happened.
When did the decrease happen exactly?
Is it a seasonal change?

Check organic traffic year-on-year (YoY)

Were there any changes in rankings?

It's possible you've only had a small decrease in avg. position, but if this means you fell back to the second page, this could result in a bigger change in traffic. Don't forget, CTR decreases a lot as you move towards the bottom of the page.
Then proceed with page-level audits.
Which are the pages that suffered the most significant drop? Take a closer look at them:

Technical elements
Organic performance
Competitors

What are the keywords that suffered the most significant drop?
Decrease in demand towards product/service
If you have found a significant drop affecting the keywords about the products/services the brand offers, it is worth checking the search volumes. It is not necessarily the website that underperforms: customer behavior is always changing, just like other external factors, and you might also discover the seasonality of certain search terms.
Next steps: Check keywords' search volume and seasonality in Google Ads.
Non-branded performance
If there was no decrease in search intent, then it is possible that the website's non-branded performance has weakened. There could be search terms where the average position went down – causing a significant decrease in traffic.
Next steps: Review the content.
Is it good quality content?
Perform a competitor analysis. Do they have better content?
Do you have content cannibalisation? If you have several pages to rank for 1 keyword/topic, then traffic is shared between multiple pages instead of having 1 good quality content to receive all the traffic (and backlinks).
Decrease in branded search terms
Even though SEO is focusing on non-branded performance, auditing branded terms is still an important part of the investigation. It is essential to know how the search intent changes and how the website ranks for these queries. Besides SEO, this could be a general brand awareness issue, so other teams need to be involved.
Next steps: Audit branded keywords' performance, involve marketing and PR teams.
Lost backlinks
Google's John Mueller has already confirmed that we don't need to worry about low-quality backlinks and uploading disavow files, as Google is able to handle spammy links.
On the other hand, it does matter if the site loses good quality backlinks. This has an effect on the backlink profile, and the site might lose authority which can cause lower rankings. That's why it's important to monitor the backlink profile regularly and take steps if you lose quality backlinks – and of course to pay attention to redirections to avoid losing backlinks.
You can try Ahrefs's free Backlink Checker to see the current state. In Ahrefs (if you have a subscription) it is even possible to check the changes in the number of backlinks from day to day, and you can dig deeper into what caused the issue, and which domains/backlinks you have lost.
Google Algorithm update
A sudden drop in traffic (instead of a slow decrease) might also be the sign of an algorithm update that has hit the site. With a quick Google search, you can find out if any algo updates happened around the time of the traffic drop. Alternatively, directly visit trusted sites like MOZ's Google Algorithm Update History or History of Google Algorithm Updates on Search Engine Journal.
Next steps:
Recently, Google algo updates have been affecting the core algorithm and analyzing the website as a whole, so usually there are no easy fixes; it is not enough to just review backlinks, technical elements or on-page elements only. You need to continuously monitor your site: perform technical SEO audits regularly, and review the quality of your content. Most importantly, besides performing the audits, make time and effort to actually solve the issues.
Takeaway: do website audits regularly!
If you take a closer look and check all the elements listed above (make a copy of the checklist in Google Drive), you realize that traffic drops can happen due to just one or even multiple issues combined.
So the takeaway is to do regular website audits because it'll make your life easier when facing a traffic drop or an algorithm update. In case of a sudden drop, now you'll know how and where to start your investigation!
How Mito Performance can help you?
Mito offers thorough technical and content audits. We are usually approached when a client faces a sudden drop in organic traffic and we need to investigate the reasons behind it. If you have any questions, reach out to our SEO expert team!