B2B Campaign Planning and optimization
We help your business achieve its goals with a unique approach to creative, media, data and technology.
We are not just a media agency, here is what defines us:
We are driven by the journey
Different media solutions drive our work, but we don't stop there. We believe that following through the entire communication journey from the first impression until the deal closing delivers the best performance and allows us to see the big picture.
We strive for strategic partnership with our clients allowing us think together from the first step to identify areas we can help you improve. For this reason we are always asking questions and want to know everything from your sales process to your technical product descriptions.
Our teams and workflows are not scattered by regions and countries. Our global campaigns are orchestrated by one dedicated team from strategic planning to execution all over the world.
We leave no clicks behind
Our focus is always on impact and efficiency, whatever your goal is. Be it reaching the right audience or making the sales, we make sure that your budget is used to its fullest potential.
We combine creative with media
We take media technology that is core to our operations and co-create – with our creative teams – immersive experiences and compelling stories.
It establishes the tone for everything we do. It is our main guiding principle to bring transparency to advertising not only by industry standard tools and measurable KPIs but this drives our operations as well as our entire business.
How performance agencies and clients should work together to meet the challenges of a new digital era.
‣ More details
Do you monitor your website's organic traffic? Are you aware if your traffic is stable, or shows a decreasing or increasing trajectory? If not, let's
‣ More details
This April, we visited the Brighton SEO conference to network, learn about the newest trends, and last but not least, learn the ropes of log file analysis.
‣ More details
Do you need help with your B2B communication? Let's talk.
Head of PPC
i.balint@mito.hu
+36 20 336 5096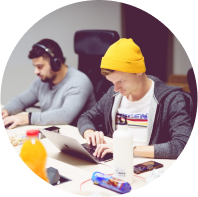 To create more clever things we need more silly people.