We improve your ecommerce performance and increase your online sales using a wide variety of data-driven and smart solutions, to get the most out of every click.
As a full service performance agency, we specialize in integrated performance-driven solutions, boosting and meticulously fine-tuning your ecommerce efforts.
We do not stop until we fully understand your users' entire journey, from the first click to returning purchases, and help you optimize, improve and enhance all important aspects and touchpoints of your sales funnel to get the most out of every single visit on your site.
We provide a wide range of webshop and online conversion related services, such as driving traffic, generating sales or leads, analyzing and optimizing overall performance.
We tailor our solutions to clients' individual needs, aiming to become strategic partners, and face every challenge together, with passion and creativity.
We are with you, throughout your customers' journey. And yours.
Nokia Allwhere – Global digital media campaign
Attribution modeling and campaign efficiency analysis
Performance focused online media management
Save the Date, Secure the Data
As web analytics tools tend to change quickly, businesses are faced with the crucial fact that it's a  must to have some sort of
Client-Agency Partnership of the Future
How performance agencies and clients should work together to meet the challenges of a new digital era.
Why has your website's organic traffic dropped?
Do you monitor your website's organic traffic? Are you aware if your traffic is stable, or shows a decreasing or increasing trajectory? If not,
BrightonSEO Conference: That's a wrap
This April, we visited the Brighton SEO conference to network, learn about the newest trends, and last but not least, learn the ropes of
All of our analytics experts and PPC consultants hold Google Analytics Individual Qualifications. We accept and follow Google's Third Party Policy.
We want to hear from you.
Get in touch with us!
CEO of Mito Performance
z.bujak@mito.hu
+36 30 210 2880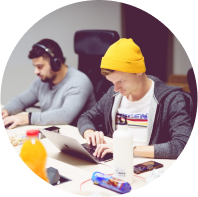 To create more clever things we need more silly people.
Are you intrested in it? Let's talk!