We improve your ecommerce performance and increase your online sales using a wide variety of data-driven and smart solutions, to get the most out of every click.
As a full service performance agency, we specialize in integrated performance-driven solutions, boosting and meticulously fine-tuning your ecommerce efforts.
We do not stop until we fully understand your users' entire journey, from the first click to returning purchases, and help you optimize, improve and enhance all important aspects and touchpoints of your sales funnel to get the most out of every single visit on your site.
We provide a wide range of webshop and online conversion related services, such as driving traffic, generating sales or leads, analyzing and optimizing overall performance.
We tailor our solutions to clients' individual needs, aiming to become strategic partners, and face every challenge together, with passion and creativity.
We are with you, throughout your customers' journey. And yours.
Nokia Allwhere – Global digital media campaign
Attribution modeling and campaign efficiency analysis
Performance focused online media management
Maximize your Shopping campaigns with a well-optimized product feed
A well-optimized feed is the soul and essence of any product campaign. Google Shopping, Facebook, or Criteo, your feed should be your number one
What makes a campaign? The creative or the media?
These 3 principles and 3 new practices guided us as we pushed our boundaries while working on campaigns for Share Now, overcoming the challenges
What is it like to be a PPC Consultant at Mito?
It's really tough to sum up in a few bullet points what you like about your job, isn't it? But Gyöngyi and Gergő still
Vanity kills Digital growth
We often find that the obstacle is the belief that any kind of detectable growth will lead to business success eventually.
All of our analytics experts and PPC consultants hold Google Analytics Individual Qualifications. We accept and follow Google's Third Party Policy.
We want to hear from you.
Get in touch with us!
CEO of Mito Performance
z.bujak@mito.hu
+36 30 210 2880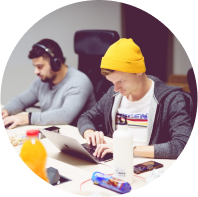 To create more clever things we need more silly people.
Are you intrested in it? Let's talk!