We want to shape how businesses interact and maintain relationships with customers by utilising data and emerging marketing technologies with a human touch.
Right now we are focusing on marketing automation and conversational commerce, because these technologies save you time, help you spend your money where it's needed most, scale your business more efficiently, and break down the silos within your organization.
Even better, marketing automation tools and conversational commerce solutions are becoming increasingly accessible to businesses of all sizes.
We are eager to know more about your next challenge!
We belive in people based marketing, talking to people in a way that is relevant and contextual. It involves identifying real people, rather than just cookies or other identifiers. We deliver marketing communication to known individuals in a way that can maximise the opportunity to provide real customer value across every channel and device – all uniquely designed for a specific, real person.
Behind every successful project there is a well-thought-out strategy. We want to be your partner in shaping the digital transformation of your company. We have gained substantial knowledge in the field of CRM, Marketing Automation, Customer Loyalty, Concersational Marketing and many more.
CRM, Marketing Automation
We are your full-service partner for CRM, marketing automation, data-driven marketing and marketing operations.
We help you create your CRM and marketing automation strategy by utilizing marketing and conversational technologies to monetize your data in a customer-centric approach.
We love loyalty programs as this is a great way to design extraordinary services and make meaningful relationship with your customers. We help you on your journey end-to-end, from creating the best loyalty strategy all the way down to implementation. And we do not stop there! We all know that the real challenge often arrives after launch and we want to be there for you.
Design as a Service (DaaS)
We work within a broad scope including consultancy, coaching, designing and implementing sustainable solutions and optimal experiences for both customers and service providers.
Conversational Technology
Our in-depth knowledge in conversational technologies such as chatbots, NLP tools, analytics and have given us insights in the best ways to monetize them in a wide range of industries.
Beyond consultancy we have developed our own omnichannel conversational platform!
Significant advances in conversational marketing is coming. Are you ready?
Outside the comfort zone. Even at a festival.
How did we make a Mark Ronson gig even more exceptional?
Digitalizing MOL? Let's talk!​
We want to hear from you.
Get in touch with us!
CEO of Mito Next
n.herczeg@mito.hu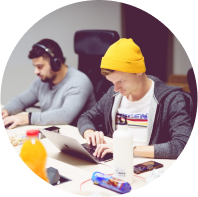 To create more clever things we need more silly people.