Being a newcomer somewhere, adapting to an unfamiliar company culture is always a huge challenge. Lots of new faces, a ton of new systems: a daunting situation that comes with a great amount of stress. For most people, dealing with all this is difficult, so it's really important to us to make the first steps easier for everyone by helping to minimize needless worrying and making all kinds of useful info easily accessible and digestible.
Our process has changed a lot over the years and it will surely keep evolving, but we wanted to stop for a moment to explain what onboarding means to us, and how and why we do it.
---
Our onboarding process was devised to ensure that information which would otherwise take months to gather is available to our new colleagues right on their first day. This period holds more than enough excitement without having to wonder whether it's okay to drink from someone else's coffee mug or if MacLaren's is a meeting room or a bar. Or maybe both. We try to cover everything from important work info to urban legends to house rules, so there's less chance for anyone to feel like an outsider when someone throws out an inside joke. Besides these, we also go over the systems we use in our daily work.
Of course, not everything goes smoothly the first time, but that's okay. That's why we make sure that onboarding is a process, which includes not only HR but team leads and members as well, so new colleagues always have someone to turn to if they have questions, even after a few months. We don't leave anyone to fend for themselves after the first day. 
What is our goal?
Mito is made up of four business units that share the same DNA, linked together by Mito Group. However, the units themselves all have different competencies, do different stuff, and in many aspects operate differently. One of our main goals was to devise a central onboarding process that is compatible with every single one of the units, while also able to introduce and communicate our shared history and values. 
To achieve this, we've created a whole bunch of tools and processes over the years, which were then placed onto a timeline for every new Mito colleague to traverse through. Actually, all this starts even before they have arrived at our office building. 
What are the steps of the process?
Before the first day
Based on a pre-assembled questionnaire, a Mito Passport is created for every new colleague to help introduce them to the others through our internal platforms. This is not a 10,000-character cringe-fest, but a simple Q&A that covers topics which might come in handy if you bump into someone at the coffee machine.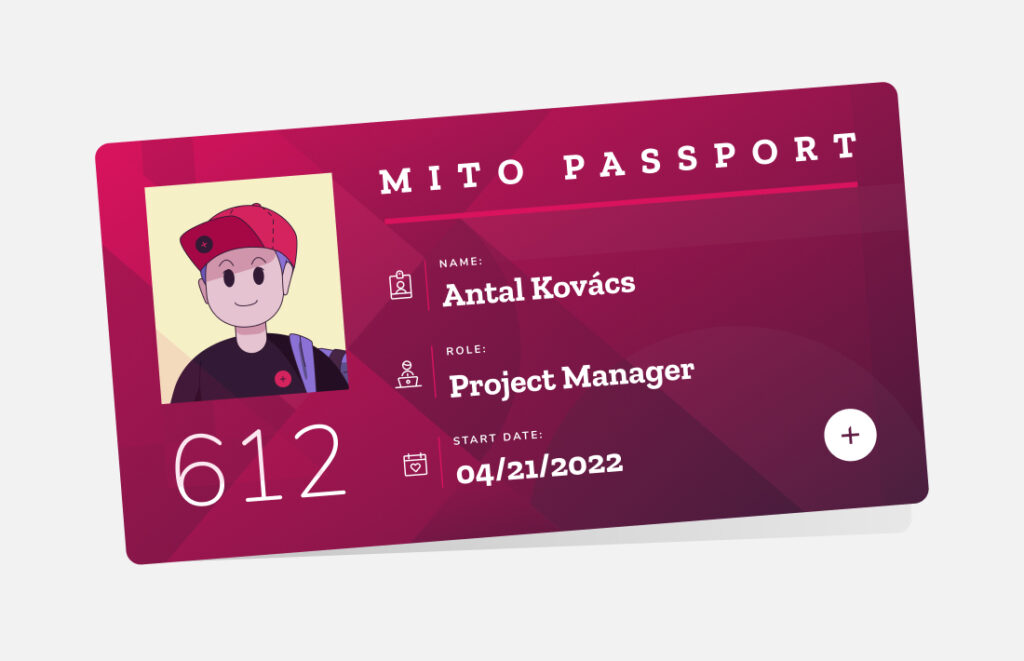 On the first day
We register an own pass card to the newcomer to be able to move freely around the office.
A welcome package is handed over, which includes a whole bunch of Mito merch and a laptop we picked together. 
The first educational stop is a system called Welcome to Mito. This is a 30-minute digital journey which covers the most essential information about the structure of Mito Group, what projects we work on, and what's worth knowing about them. (Some courage will be required here, because the new team member is still on their own at this point.)
Together with an HR partner, we run through an abridged version of Mito Basics. This is a 100-plus-slide presentation that contains practical info about everyday life at the office or in home office. You don't have to memorize any of this: you can refer back to this document any time, that's what it's for. Besides covering information about the location of things, available benefits and usual company events, it also includes a walk-through of our systems, during which the new colleague is introduced to such exciting creatures as the Szabiszörny (Vacation Monster), WhoWhere or VauWhere (WoofWhere) – these and other in-house developed tools provide information about timesheets, days off, contact details for people or animals, and so on.
A portrait picture gets taken – the only requirement for your Mito Portrait is that you should smile in it. Now it will be easier for everyone to connect a face to the name.
We take a walk through every floor of the office together so you can physically see the places you've already learned about during your digital journey. 
We connect the given month's new entrants in a chat group so they can get to know each other, ask questions, or arrange to have lunch together. 
We create a short summary and reminder about everything we talked about during the day, because by the end of the afternoon it's hard to remember even the topics that have been covered, let alone the actual content.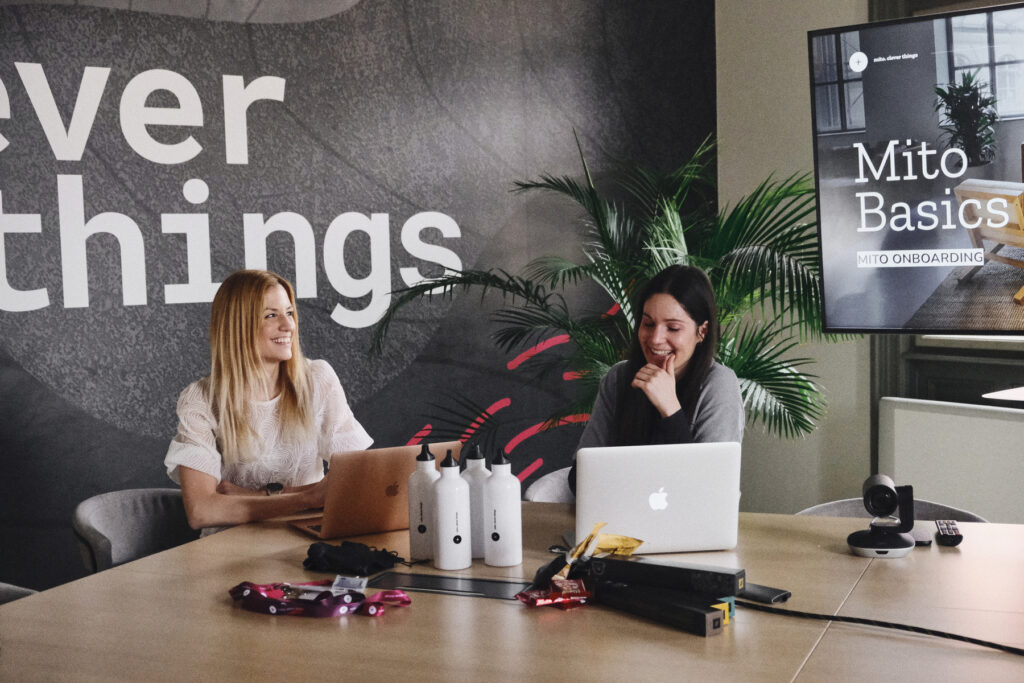 In the first week
New colleagues have a pre-arranged schedule waiting for them so they can meet the people they will be working closely with. With the help of the team lead and members, work-related onboarding begins. At this point the central process diverges, as onboarding differs for the four business units based on competencies, tasks and the team. For example, a developer at Mito Digital will get acquainted with development environments, while a PPC specialist at Mito Performance will learn about the tools we use for campaign planning. 
In the first month
While our HR partners' door is always open, there's a standard check-in called Mito Mizu (Mito WhatsUp) scheduled for the end of the first month. Here we go through a fixed list of questions and, among other topics, talk about how Mito has lived up to the prior expectations of the new colleague and how they like the company, the team, and the tasks after the first few weeks. The answers to these questions are recorded so we can learn from them to improve our processes. 
In the first three months
An incredible amount of stuff has happened. In addition to having reached the end of their probationary period, by this point the new colleague has surely
… read the business unit newsletters called Mito Monthly
…had their photo taken at a Mito Nite (hopefully a smiling one too)
…listened to the introductions of every team on mito.zip 
…attended a Q-day, where we tell each other about our projects
…fought for a pineapple on a Fruit Wednesday
…has maybe contributed to Mito Weekly
…or might have even appeared in Time Out with an event recommendation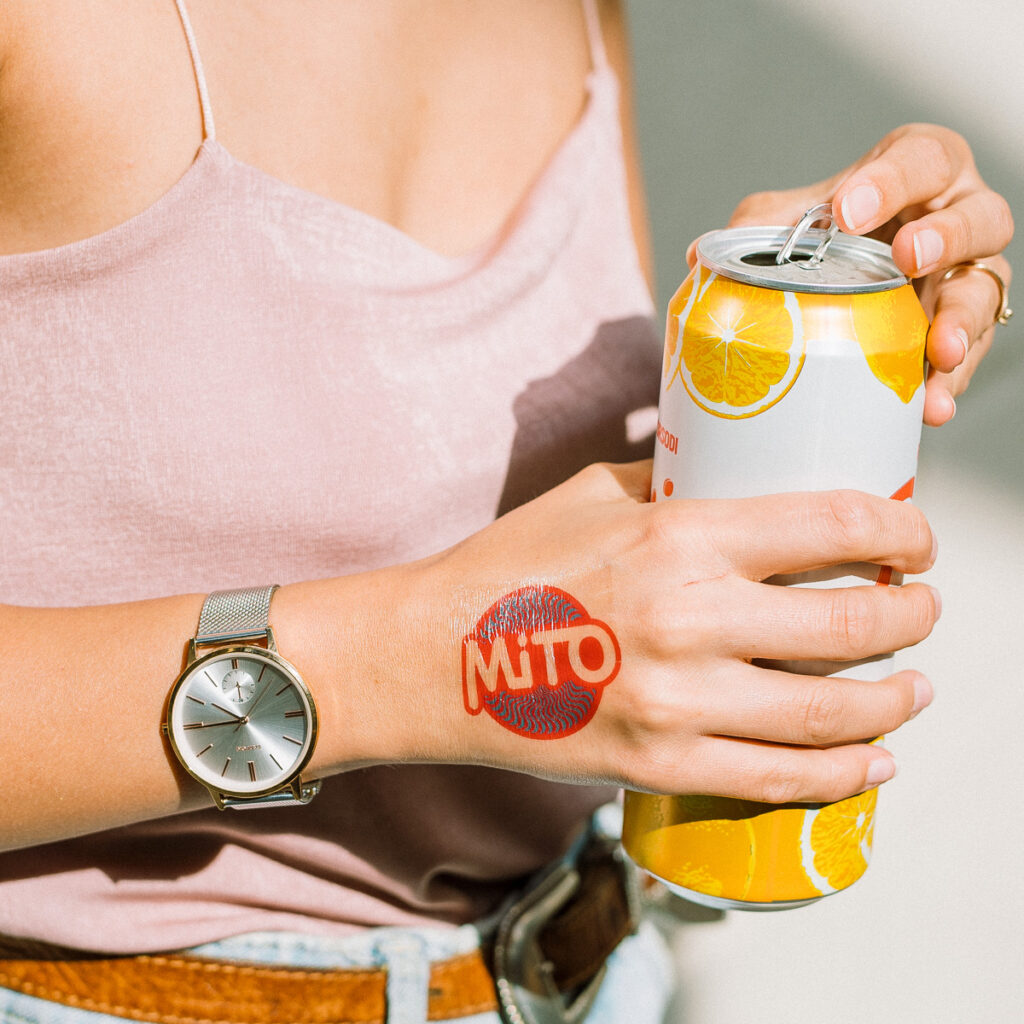 Around this time, we sit down together to review the probationary period, so everyone — including the new Mito colleague, of course — has a chance to evaluate the first three months spent working together. Then together with the team lead we lay out plans and goals for the future.
And this quite eventful period is only the beginning, the first chapter of a Mito career. But probably the most important.